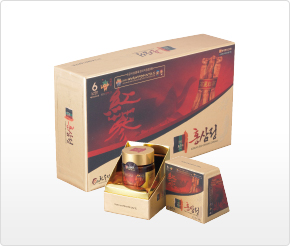 + Name: HONGSAM JEONG (Red Ginseng Concentrate)

+ Function : Increases immunity, relieves fatigue, improves
blood circulation and memory. functions as an antioxidant.

+ Volume : 120g, 240g, 120g x 3pc

+ Ingredients : Ted ginseng concentrate (solid powder 60% or more)
(total ginsenoside Rg1 and Rb:4mg), ginseng roots 70%, ginseng
fine roots 30%, Koran origin 100%.

+ Directions : Put 1 teaspoonful into 80ml or warm or cool water
and stir.